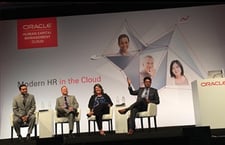 This panel discussion was presented at the Oracle Open World Conference 2016 in San Francisco CA USA. The session was moderated by Jacob Thomas, EVP Drivestream.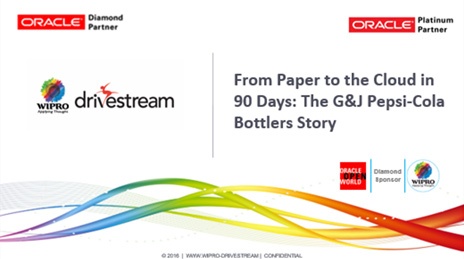 Abstract
G&J Pepsi-Cola Bottlers' human resources processes were completely manual, paper intensive, and time consuming. The company turned to Oracle Cloud and implemented Oracle Human Capital Management Cloud, Oracle Taleo Recruiting Cloud Service, Oracle Taleo Social Sourcing Cloud Service, and Oracle Taleo Onboarding Cloud Service in less than 90 days. In this session, G&J Pepsi-Cola Bottlers discusses the approaches, strategies, and best practices it followed to implement Oracle Cloud in such a short time. The company achieved maximum benefit through careful planning, change management preparation, user acceptance testing, and a review approach that eased internal adoption and led to a successful cloud deployment.

Open World Session Catalog
Session ID : CON5881
Tuesday, Sep 20, 12:15 p.m. - 1:00 p.m. | Palace - Grand Ballroom
Speakers
Jacob Thomas

,

Executive Vice President, Drivestream, Inc


Jacob oversees Drivestream's Account Management Group that provides strategy and advisory services to clients. He also heads up Drivestream's Marketing and Alliances Organization. He has led several go-to-market strategies with various innovative service solutions including Drivestream's unique Comprehensive Cloud Solutions. Prior to Drivestream, Jacob was an Associate Partner at IBM, Human Capital Management Practice, a Global Managing Director at Unisys, and a Systems Integration practice leader at PWC. Jacob is an Electrical Engineering graduate from the University of Maryland.
Christina Walker

,

EVP-HR, G & J Pepsi-Cola Bottlers, Inc


Christina Walker joined G&J Pepsi in 2015 as the Executive-Vice President of Human Resources. During her time she has made an impact on the business by focusing on valued business partnerships and creating synergies. Prior to joining G&J, Christina has over 20 years of Human Resources experience in leadership and specialty capacities for fortune 500 organizations.

She also specializes in areas of HRIS, Total Rewards, Development & Acquisition, Employee Relations and Communications. Christina holds two Bachelor of Science degrees, a Masters of Business Administration in Human Resources Leadership, and currently pursuing her Doctorate of Management in Organizational Leadership.
Bernardo Samaniego

,

Sr. Total Rewards & HRIS Manager, G & J Pepsi-Cola Bottlers Inc


As Sr. Total Rewards & HRIS Manager at G&J Pepsi, Bernardo played an instrumental role in the deployment of the Oracle HCM Cloud. After joining the company in 2015, Bernardo spearheaded the evaluation and implementation of the Cloud and business transformation initiative.

Bernardo specializes in the areas of HRIS, Total Rewards, Development & Acquisition, Employee Relations and Communications.
Rishi Mathur

,

Director- Cloud HCM, Drivestream, Inc


As a Director, Cloud Services at Drivestream, Rishi's primary responsibilities include managing Oracle Cloud projects. Rishi is also responsible for managing Drivestream's Talent Management COE and training and preparing subject matter experts. With more than 14 years experience, Rishi has track record of successfully managing global cross-functional implementations for large-scale, multi-million dollar projects.