No doubt you have seen the many news stories discussing the "Great Resignation." The pundits are offering up catchy reasons that are driving the resignations: pandemic stress, remote working, burnout, work-life balance etc. In the last couple of months several studies have been published that have taken an empirical look at the phenomenon. The research has uncovered some interesting insights, that doesn't fit nicely into pithy sound bites.
Trends & Demographics
The U.S. Bureau of Labor Statistics has reported since June 2020 a steady increase in the "Quit Rate" month to month reaching a high in September 2021. October 2021 preliminary results suggests a slight dip in the rate month over month, but it is still high.
In October 2021 Visier published a report "Stop The Exit - A Data Driven Approach" based on research conducted with data curated from their community data which contains over 10 million employee records across 5,000 companies. Their data demonstrated that "...the annualized resignation rate for organizations January to August 2021 was a staggering 25%, compared to 22% in the same period of 2019, and 18% in a pandemic ridden period January to August of 2020." A trend that is similar to the U.S. Bureau of Labor Statistics report.
Generally, when high turnover rates are discussed we think of the workers in the early stages of their career seeking out new opportunities and experiences. The Visier study uncovered some disturbing insights regarding tenured workers. "The rate changes between 2020 and 2021, however, reveals that resignations by tenured employees have significantly increased when compared to last year and compared to the rate of change for less tenured employees." See their chart below for the breakdown.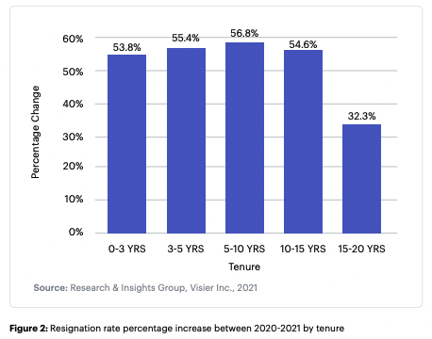 The implications to the organization losing their most tenured employees, in addition to lost productivity, are experiencing disruption in knowledge sharing, mentoring, team effectiveness, leadership and company morale. This data also points to that fact that the high rate of voluntary resignations are cutting across the entire employee population. When the entire workforce is at risk, this means, that solving this challenge is complex and requires insights to pinpoint the cause of the resignations for the various micro-populations that reside in your employee base. These insights will arm the organization with the information needed to create thoughtful programs to address this complex challenge.
Stemming the Tide of the Great Resignation
Organizations that embrace the use of strategic HR data though the use of analytics (predictive & prescriptive) and A.I. with fully integrated systems across the enterprise are in the best positions to create discrete actionable programs to retain their employees. In a study published by APQC in September 2021 they found that "best-in-class HR function are significantly more likely to use analytics and artificial intelligence." See APQC chart below.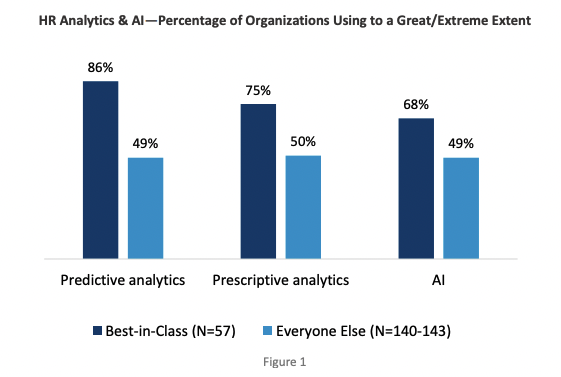 Its not a coincidence that Best-in-Class HR organizations use analytics and & A.I. at a substantially higher rate. It is the use of these tools that helps to make them best-in-class. It is through the use of the strategic HR data employers will gather the insights they need to retain their diverse workforce. These insights will help the organization build timely, tactical, and actionable programs. Simple employee surveys will no longer arm you with the information you need to make critical business decisions involving your workforce.
Does your HR platform provide you with strategic insights you need to retain your most valuable employees? Are you protected against "The Great Resignation?"
Sources: U.S. Bureau Labor and Statics, Table 4. Quit levels and rates by industry and region, seasonally adjusted; How Best-in-Class HR Functions Use Data and Analytics, APQC published September 2021